Chilkat Raven Drum George Hunt Jr
Native Drum - Chilkat Raven Drum by George Hunt Jr
Drums - Chilkat Raven Drum by George Hunt Jr c2007
Here is a fine example of George Hunt Jr's work. This Drum and Beater are an example of the ties between the Chilkat of Alaska and the Kwakiutl of Fort Rupert. The Raven holding the Clam shell with an Human climbing out, this is the believed of how man was created , there are also Bear designs in the eye beak and wing.
The drum is Deer hide with cedar bark rope and feathers, the Raven Beater is carved from red cedar is fully carved with copper and abalone and feathers.
The Drum measures 20 inches and the Raven beater is 24 inches in length .
Price: sold Please contact us for information on commissioned works.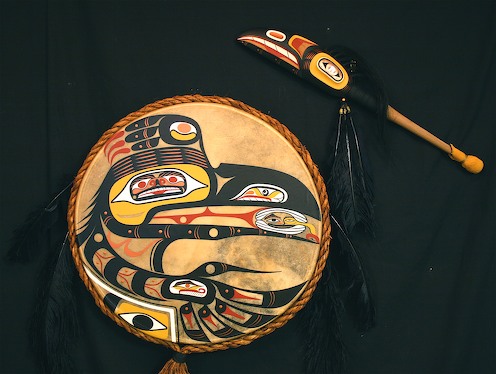 Additional Links for Chilkat Raven Drum George Hunt Jr:


Art Piece: "Chilkat Raven Drum George Hunt Jr"
Artist: George Hunt Jr
Art Piece Name: ma107-f
Other pieces from Native Past Works: