Killer Whale Panel Laurence Scow
Native Carving - Killer Whale Panel by Laurence Scow c2006
Carving - Killer Whale and Raven Panel by Laurence Scow c2006
Here we have a 35 inch round Yellow cedar fully carved panel with the Killer Whale or Orca pod with the Raven and the Human incorporated into the works.
the Killer Whale is associated with strength, dignity, prosperity and longevity. The Raven for the discovery of fire and the Human could be an ancestor that is riding with the Killer Whale.
Price: sold Please contact us for information on commissioned works.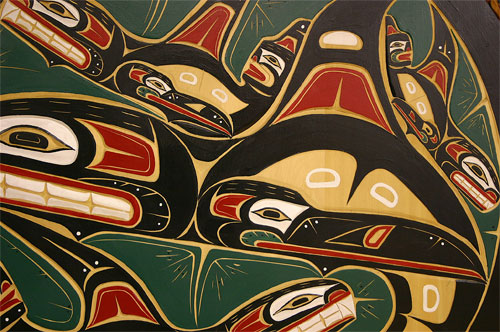 Additional Links for Killer Whale Panel Laurence Scow:


Art Piece: "Killer Whale Panel Laurence Scow"
Artist: Laurence Scow
Art Piece Name: ls49-d
Other pieces from Native Past Works: