Thunderbird Drum Trevor Hunt
Native Drum - Thunderbird and Red Snapper by Trevor Hunt c2009
Drum - Thunderbird and Red Snapper by Trevor Hunt c2009
Thunder bird is very important to the Kwakwaka'wakw, who in legendary times made a deal with the powerful supernatural bird, named for his habit of causing thunder and lightning.
Here we have a large 24 inches round 2 1/2 inches deep Deer hide drum with a Thunderbird and Red Snapper the Thunderbird body is in his human form.
Price: sold Please contact us for information on commissioned works.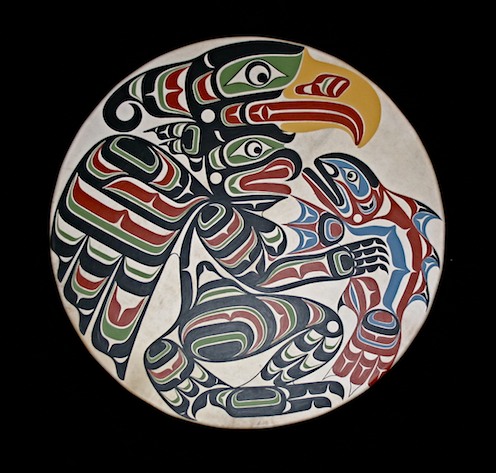 Additional Links for Thunderbird Drum Trevor Hunt:


Art Piece: "Thunderbird Drum Trevor Hunt"
Artist: Trevor Hunt
Art Piece Name: th174-f
Other pieces from Native Past Works: